Wanderlust: Travel Stories is an anthology of interactive travel literature, inspired by true stories and set in real places. Step into the shoes of modern travelers—explore their desires, hopes and fears, and shape how their stories unfold.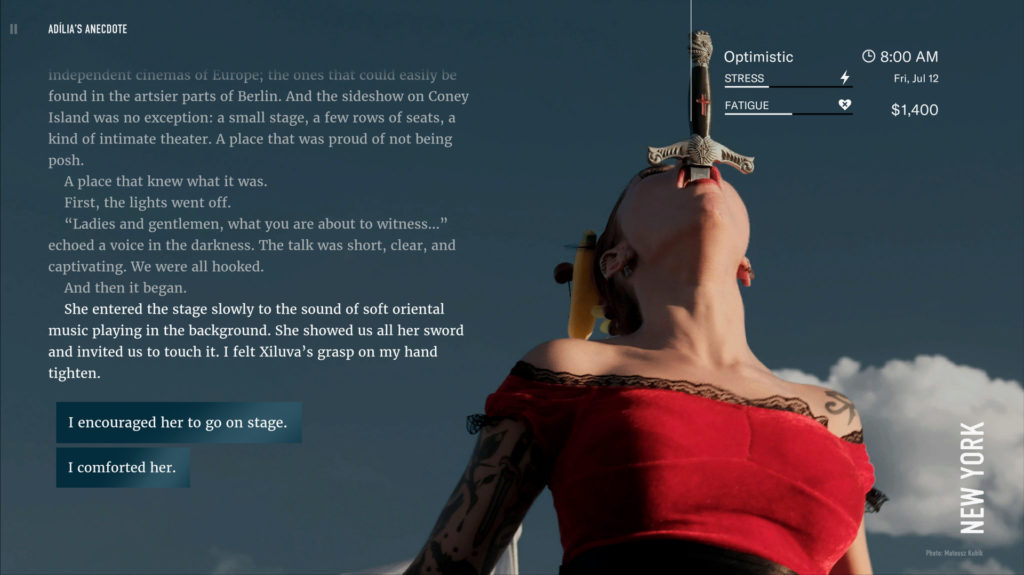 In a bar, on the world's most remote island, a group of strangers share their stories. This collection of playable novels lets you experience travel from distinct perspectives—but the course of each journey depends on your choices.
Travel Anthology
Four novellas and five short stories, each written by its own team of authors. Every journey offers a unique playstyle, as you experience travel through different eyes: an idealistic student, a jaded reporter, or a man who's simply a terrible planner.
Intimate Writing
It is a bridge between literature and gaming, an experimental format for those who seek the new and unusual. Minimalistic aesthetic, bespoke photography, and immersive soundscapes set the tone. Just enough to stir your own memories or feed the imagination.
Life-Inspired Stories
Wanderlust: Travel Stories was inspired by real-life experiences and set in real places. Created by a team of passionate travelers, seasoned reporters, artists, and game makers, this interactive literature shows a world they saw throughout their journeys.
Emotional Journey
Your choices shape the characters' mood. This, in turn, changes how you see the world. Feelings color perception. All emotions are valid: happiness or enthusiasm aren't everything, feeling sad or fatigued is perfectly natural.
"Melancholic and hypnotic. It softly swept me away and gently blew my mind."

"More than the sum of its parts."

"An unusual and bold concept of a game based on the literature of the road."
Introducing Slow Gaming
Our goal is not to challenge skills and reflexes, but assumptions and feelings. Slow Games allow you to experience them at your own pace—and grow. They are not designed as toys. They are tales of common human experience.
If this is what you seek, check out our Slow Gaming Manifesto.
Diverse Travels
It's not about the destination, it's about the journey. Still, you get to experience some wondrous locations from the mysterious statues of Easter Island, through the bustling streets of Bangkok and the vast pristine expanses of the Antarctic, to the grasslands of the Serengeti.
From the creators of The Witcher, Dying Light and Hitman
We sail into uncharted waters with this experimental playable travel documentary. We would love you to join us on the journey.

Awards
Baltic Sea Game Award 2019 Winner (Best Game Narrative)
Digital Dragons Indie Showcase 2019 Winner (Best Mobile Indie Game, Community Vote)
Graczpospolita 2019 Award Winner (Best Mobile Game)
16th International Mobile Gaming Awards Nominee
Paszporty Polityki 2019 Nominee (Digital Culture)
Indiecade Europe 2019 Official Selection
Game Connection America 2019 Nominee (Best Quality of Art, Most Promising IP, Best Story / Storytelling, Most Original Game, Best Indie Game, Best Casual Game)
Where to buy
| Platform | Where to buy |
| --- | --- |
| Windows (64 bit) | |
| Windows (32 bit) | |
| macOS | |
| Linux | |
| iOS (iPhone, iPad) | |
| tvOS (Apple TV) | |
| Nintendo Switch | |
Game soundtrack is available on Steam and in various streaming services.
Every story in Wanderlust was based on thorough research. Here is the list of our inspirations and recommendations:
The books behind the game.